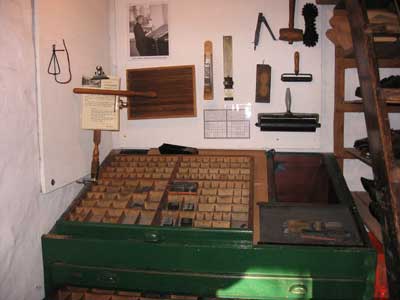 As far as we know most of the companies, shops and people in the town of Bindslev used the printer in the neighbouring town, Sindal to make leaflet and circular. His name was Gunnar Bilde, and his son, John, who took over after his father, has delivered old paraphernalia from the printing house to the museum.

There is a desk with a slanting surface, where the drawers for one thing type cases with letters in different sizes, for another blocks of pictures, which were used of companies and shops in Bindslev,

You can find blocks from Lauritz C. Hahn, A. C. Jakobsen, Jens Jakobsen and others, just as a block of the famous mural of Maria the Virgin with the Infant of Jesus from the church of Bindslev can be found.