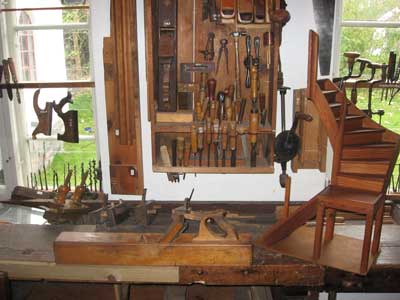 Here in this worshop yuo find the foundation for the museum, as the objects in theese sections were found on the loft in the old workshop, and it was the beginning to the museum. They have belonged to the former owners, Karl Pol and A.C. Jakobsen. It also applies the workbenchs as well as A.C Jakobsen`s journeymen`s certificate from 1917 and the license of trade for both of them, respectly from 1912 and 1925 are hanging at the museum.
The two trades have their own sections in the museum, but to day often the two trades are put together. Many craftsmen-compagnies have it in their name (carpenter- and joinercompagny), but so it have not always been.
The word carpenter we meet for the first time in the thirteenhundred, and over the years in forteenhundred written sourcies tells about carpenters in great numbers. First some hundred years later permanent limits appears between the carpenter-trade and the other woodworks (joiner and carver). The joiner-trade was originally more closely at carved work, and it flowered specially in the Renaissance in sixteenhundred.
As mentioned under "Museum`s History" there were in 1900 14 carpenters and joiners in Bindslev, and also to day Bindslev is well, when you look at carpenter. One click at "De gule Sider" shows completely 7 carpenter-compagnies in Bindslev.
{backbutton}